Working Time
Tuesday-Sunday

: 11:00 AM–7:00 PM
Ask the Experts
Clean – ups
CLEAN – UPS
Our customized clean-ups are primarily designed to minimize the effect of shallow blemishes as well as unclog and cleanse the pores. A steam and extraction regimen is followed to eradicate whiteheads and blackheads, as well as specific protocols to prevent sebum secretion that leads to acne, which are all part of our clean-ups. They also improve skin tone and texture while eliminating inflammation. Our clean-ups are designed in such a way that it suits all skin types and gives desirable results.
1. CLEAR PORE
Our most popular and unique clean-up tackles any patchiness of skin tone with the help of our de tan mask, making it an excellent treatment for excessively oily skin. A tranquil mask is also included in the treatment that enhances the skin's barrier function and reduces any post-extraction irritation.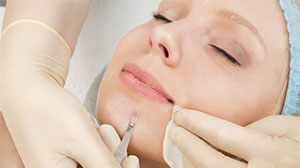 2. HYDRA PURE PORE TREATMENT
The Hydra Pure Pore therapy employs a unique technique for deeper penetration of active constituents, making it the ideal mix for nourishing and deep cleansing the skin. The skin is given an additional boost of hydration and care with the assistance of a hyaluronic gel. This clean-up is suitable for almost all skin types and finishes with a specially formulated anti-acne mask to control sebum.
3. PURE PORE TREATMENT
To treat acne, this innovative clean-up contains an anti-germicidal gel. After that, a specifically designed anti-acne mask is applied to balance sebum production, which is the primary cause of acne. The Pure Pore Cleanser is designed to reduce inflammation and irritation while also hydrating and improving the skin's texture and tone.